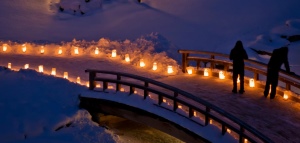 Luminaria
Starts:


Saturday, December 05
5:00 PM

Ends:


Saturday, December 05
9:00 PM
This popular event ignites the festive season with thousands of candles along the paths of the Kurimoto Japanese Garden in a breathtaking display - a quiet oasis of peace and light. Visitors can count on their favorite elements from Luminarias past: a stroll through the candle-lit pathways, hot apple cider beside the bonfires, ice sculptures, delightful "snow sprites" and the seasonal sounds of strolling a capella singers. Plus, new for 2015, family-friendly interactive activities and entertainment will be offered, along with food and beverage options, and improved parking and free shuttle arrangements for streamlined entry.
As always, a special Memory Lane will be available for visitors who would like to light a candle in honour of a loved one.
Handmade natural decorative gifts and treasures will be available at the Crafters Workshop and the Shop-in-the-Garden will also be open.
More Information
Ticket Information
Event Location
Devonian Botanic Garden
Highway 70
Edmonton, Alberta
Recent Related Tweets