Blatchford Sustainable Community...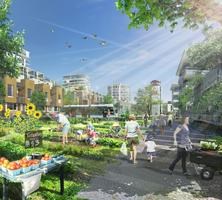 Blatchford Sustainable Community Tour - Green Energy Doors Open
Starts:


Friday, September 09
4:00 PM

Ends:


Friday, September 09
5:00 PM
TO REGISTER FOR THE 3-4PM TOUR CLICK HERE: https://www.eventbrite.com/e/blatchford-sustainable-community-tour-green-energy-doors-open-tickets-20899401673
Join Mark Hall, Executive Director of the Blatchford Redevelopment, and learn more about the City's plan to transform 536 acres of land in the heart of Edmonton into an inclusive, family-oriented, sustainable community. 
Blatchford will be home to up to 30,000 Edmontonians living, working and learning in a sustainable community that uses 100% renewable energy, is carbon neutral, significantly reduces its ecological footprint, and empowers residents to pursue a range of sustainable lifestyle choices. The community will help define the future of Edmonton and will play a significant role in setting the standard for sustainable communities around the world. 
Additional notes for any individuals with mobility issues — the path to the tower from the street is an uneven gravel surface. While the presentation will be on the main floor, there are stairs to reach the top of the control tower.
Presentation details: Presentation overview on the community, opportunity for Q & A, and then a chance to take in the view of the site from the top of the former control tower. Register early as there is limited space on the tour (maximum of 30 people). 
Location: Meet at the former airport control tower at Blatchford (31 Airport Road) before 11 a.m. WE WILL BE MEETING AT THE LOCATION. 
Directions: The NAIT LRT stop (on the METRO line) is about a 15-20 Min walk away. The #12 and the #210 Bus lines also run along Kingsway Bvld.
More Information
Ticket Information
Event Location
Edmonton City Centre Airport
City Centre Airport Lands
Edmonton, Alberta
Recent Related Tweets
Blatchford Sustainable Community...