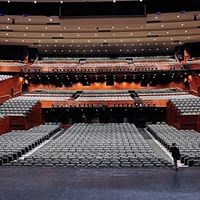 Video Games Live
Starts:


Saturday, February 28
7:30 PM

Ends:


Saturday, February 28
9:30 PM
PRE-SALE NOW UNTIL FRIDAY MORNING!
http://www.ticketmaster.ca/event/11004CB5B0FC24FB
SPECIAL FACEBOOK CODE: U2D2LRLRBA
Performing an ALL NEW SHOW!
HELP US CREATE THE SETLIST FOR YOUR SHOW BY TELLING US WHAT YOU'D LIKE TO HEAR BELOW!
Please sign up to the Video Games Live mailing list at www.videogameslive.com so you'll get the info FIRST!!
LIKE our page for special announcements and feel free to leave any questions and/or comments below. And make sure to tell us what you'd like to hear!!!!
Please help us spread the word to your friends in the area and let them know you're attending by sharing this page on your WALL. THANK-YOU!
Video Games Live is an immersive concert event featuring music from the greatest video games of all time. Created and produced by industry veteran video game composer Tommy Tallarico; top orchestras and choirs around the world perform along with exclusive video footage and music arrangements, synchronized lighting, special fx, solo performers, electronic percussion, live action and unique interactive segments to create an explosive one-of-a-kind entertainment experience.
PRE-CONCERT ACTIVITIES
- Guitar Hero competition starts 1 hour prior to concert; winner plays on stage with the Symphony.
- Costume contest with winner selected from the stage just prior to the concert.
POST-CONCERT ACTIVITIES
- Meet and greet reception with game industry luminaries (open to all ticketholders)
The best way to describe Video Games Live? Picture the energy and excitement of a rock concert mixed with the power and emotion of a symphony orchestra and choir combined with the technology, interactivity, incredible visuals and fun that only video games can provide. Completely synchronized cutting-edge video screen visuals, state-of-the-art lighting and special on-stage interactive segments dazzle audiences of all ages – gamers and non-gamers alike.
Event Location
Northern Alberta Jubilee Auditorium
11455 87 Avenue NW
Edmonton, Alberta
T6G 2T2
Recent Related Tweets