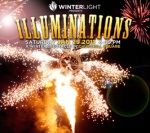 Illuminations
Starts:


Saturday, January 29
4:00 PM

Ends:


Saturday, January 29
10:00 PM
The wheel of fire turns, a grove of ice glows? and the snowball battle begins! Experience a winter wonderland in Churchill Square. Featuring the explosive performance of Circus Orange in their acclaimed spectacle event, The Tricycle - an Edmonton premiere!
Try your hand at Yukigassen, a Japanese snow battle sport that is making its North American debut right here at Winter Light! Enjoy songs from Debbie Houle and Sherryl Sewepagaham, and thrill to dancers Leo Letendre and Angela Miracle Gladue.
Have a skate in front of City Hall, and warm up with a cup of free hot chocolate. Then take in the beauty of voice and sound meeting fire as audio artist Aaron Macri live-mixes the Illuminations Choir accompanied by media artist Lindsay McIntyre's visuals and lighting design by Matt Vest.
Let the elegance and silliness of circus artist/street performer Aytahn Ross lead you into the grand finale pyrotechnics of Circus Orange-- not to be missed!
Event Location
Churchill Square
10247 100 Street NW
Edmonton, Alberta
T5J 2R7
Recent Related Tweets